HINABI as supporting association for Load & Haul Asia 2011 Conference
Jakarta, 4 Agustus 2011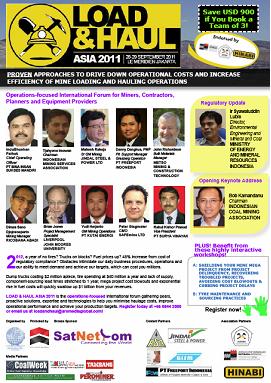 The mining industry is currently experiencing earnings growth and obstacles that intimidate daily business procedures, operations and the ability to meet demand that is rising exponentially.
Load & Haul Asia 2011
adalah sebuah forum internasional yang berfokus pada solusi proaktif solusi dalam bidang keahlian dan teknologi untuk membantu para pengusaha meminimalkan biaya pengangkutan, meningkatkan kinerja operasional dan mencapai target produksi. Acara ini diselenggarakan oleh
Center for Energy Sustainability and Economics
yang juga merupakan sebuah pusat penelitian industry dibidang energy.
Load & Haul Asia 2011
didukung oleh
ASPINDO, APBI & HINABI
dan akan diadakan pada tanggal
28-29 September 2011
di
Hotel Le Meridien
, Jakarta.
Opening Speech
oleh :
1. Dir. Teknik Lingkungan Mineral dan Batubara, Ir. Syawaludin Lubis
2. Ketua Umum ASPINDO, Tjahyono Imawan
3. Ketua Umum APBI, Bob Kamandanu
Pembicara dalam forum ini diantaranya :
1. Danny Dangkua, Pit Support Manager Grasberg Operation – PT Freeport Indonesia
2. John Richardson, Bulk Materials Manager- METSO Mining & Construction Technology
3. Brian Jones, Project Management Specialist- Liverpool John Moores University
4. Yudi Harjanto, GM Mining Operation-PT Kutai Energi
5. Dimas Seno Djojosoeparto, Mining Manager-Ricobana Abadi
Who is coming?
- GM - Mining Contracts & Operations
- Project Managers
- Mining Owners, Mine Contractors
- Mine Manager, Operations Manager
- Technical Services Managers
- Engineering Manager
- Mine Planning Manager
- Mine Maintenance Managers
- HSE Managers, Head of Safety
- Industry Regulators and Safety Inspectors
- Director Generals
Informasi dan pendaftaran dapat langsung menghubungi HINABI cq. Liswan Cinthia.
"Special Discount 30% bagi anggota HINABI"
---
Register in one of these 4 easy ways:
1. Email
loadandhaul@arcmediaglobal.com
2. Call +65 6844 2080
3. Fax +65 6844 2060
4. Visit
www.arcmediaglobal.com/loadandhaul
QUOTE: 82457-HINABI-EQ to claim the member discounts.