The APM-RGC held alongside the IIICE'12is the leading G2G, G2B and B2B forum for Infrastructure development in Indonesia, bringing together the widest community of senior decision makers and officials responsible for infrastructure projects in Indonesia. As a 3 day conference & exhibition these events will once again provide a critical platform for both National and Regional governments, businesses, investors and leading technology experts to meet, discuss, and set strategies for the planning, development and implementation of sustainable and inclusive infrastructure across the archipelago.
Confirmed Participants Include:
Coordinating Ministry for Economic Affairs-RI, Ministry of National Development Planning (Bappenas)-RI,Indonesia Investment Coordinating Board (BKPM)-RI, Ministry of Transportation-RI, Ministry of Public Works-RI, Ministry of Energy and Mineral Resources-RI, Ministry of Finance-RI, Ministry of State Owned Enterprises-RI, Ministry of Communication and Information Technology-RI, Ministry of Trade-RI, Ministry of Industry-RI, National Land Agency-RI, Ministry of Foreign Affairs-RI, Indonesia Chamber of Commerce and Industry(KADIN-RI), Indonesia Infrastructure Finance, Sarana Multi Infrastructure, Philips Indonesia, GMR Airports India, Tusk Advisory, Hitachi, Telkom Indonesia, Latham & Watkins, Wuhan Sanjiang – China, Thiess Contractor Indonesia, Andritz Hydro, Penjaminan Infrastruktur Indonesia (IIGF), Fujitech Indonesia, PLN, Sumitomo Corporation, Harrif Daya Tungga Engineering, Jasa Marga, Adhi Karya, Mitsubishi Corporation, Pelindo II, Leighton Contractors, Russian Railways, Zhongli Science and Tech Group Co. ltd, Waskita Karya, Hutama Karya, Wijaya Karya, Signature Systems Group, Embassy of the Republic of India, Embassy of Canada, Embassy of the Islamic Republic of Iran, Embassy of Singapore, Embassy of the Kingdom of Netherlands, Royal Thai Embassy, Bank BCA, Severn Trent De Nora Singapore, Asuransi Jasa Raharja Putra, Deloitte Konsultan Sanjiang Indonesia, Osman Bing Satrio & Rekan, Ali Budiardjo Nugroho Reksodiputro (ABNR), Pinsent Masons, Kalimantan Rail Pte.Ltd, Korea South East Power, Korea Electric Power Corporation, Bank ANZ, HT Port Marine, Padi Mekatel, Bahar & Partners, Mitsui & Co, Ltd, Asuransi Tugu Kresna Pratama, Probase Manufacturing Sdn Bhd, Bekasi Power, MKK Law, Woodfield Consultant, GE Transport, Mitsubishi Heavy Industry, Reka Elektra Sarua Wisesa, Astratel Nusantara, Nusantara Infrastructure, SNC Lavalin, Samsung C&T, Austrade, DH Energy, Katahira & Engineers International, Bank HSBC, Provinsi Kalimantan Timur, Provinsi Jawa Barat, Provinsi Jawa Tengah, JakartaGlobe, The Wall Street Jurnal, Bloomberg Television, tvOne, BCI ASIA, Finance Indonesia, Cargo Times, Indoshipping Gazette, Oxford Business Group, Vibizmedia, Majalah Konstruksi, Okezone.com, Detik Finance, RFP, Equipment Indonesia, Business Week Bloomberg, Sailings, Logistics+, Warta Ekonomi, Sinar Harapan, Petrominer, Neraca, Gatra, Gatra News, SWA, ANTARA, TEMPO, EKONID (The German-Indonesian Chamber of Industry and Commerce), IPFA, INCCA, BRITCHAM, AMCHAM, ASPERAPI, APBI-ICMA, APPSI.
The Focus: MP3EI - A National "Connectivity" Priority
MP3EI -"The Master Plan for the Acceleration and Expansion of Indonesia's Economic Development".
This national priority plan launched in 2011, with a scope through to 2025, aims to connect the 33 provinces of Indonesia with both domestic &International partners, fostering inclusive and sustainable economic growth across the archipelago. A total of Six economic corridors have been identified that will each focus on strengthening national connectivity and human resource capability through enhanced science and technology with an integrated infrastructure and investment policy. These events with a dedicated focus on the critical infrastructure agenda in support of MP3EI, held in conjunction with presentations by the 33 Indonesian provinces of Indonesia, will offer unparalleled perspective on the latest opportunities taking shape across Indonesia's rapidly expanding infrastructure sectors.
Economic Corridors

Development Theme

Supporting Infrastructure Needed

Investment Value

1. Sumatra EC

Center of production and processing of natural resources and as nation's energy reserves

Railways, Roads, Power & Energy, Ports, Sunda Straits Bridge (JSS), Water Utilities

$ 26.5 billion

2. Java EC

Driver for national industry and service provision

Roads, Power & Energy, Airports, Ports, Railways, Other Infrastructure

$ 72.2 billion

3. Kalimantan EC

Center for production and processing of national mining and energy reserves

Ports, Roads, Railways, Power & Energy, Bridge, Water Utilities, Overland Conveyor, Airports

$ 60.2 billion

4. Sulawesi EC

Center for production and processing of natural agricultural, plantation, fisheries, oil and gas, mining

Road, Power Plant, Jetty, Irrigation, Water Ponds, Power & Energy, Fishing Ports

$ 20.5 billion

5. Bali - Nusa Tenggara EC

Gateway for tourism and national food support

Ports, Nusadua - Ngurah Rai - Benoa Airport, Toll Roads, Airports, Roads, Fishery Production Facilities

$ 6.2 billion

6. Papua - Maluku Islands

EC

Center for development of food, fisheries, energy, national mining

Sea Ports, Power & Energy, Water Utilities, Roads, Fishery Production Facilities, Road & Bridges, Airport

$ 53.1 billion
<![if !vml]>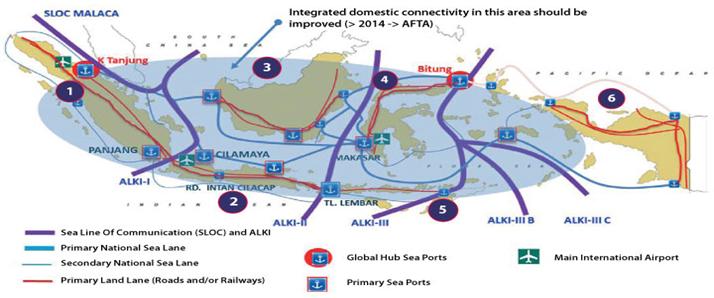 <![endif]>
The Conference

Day-1

Indonesian National Government's Macro Planning Policy; Exploring deeper G2G cooperation with Indonesia's key trading partners with presentations by national ministers and leading private sector investors outlining strategies and latest policy updates for working with the Indonesian government on fast-tracking critical national infrastructure development.

Day-2

Parallel Sector Tracks with MP3EI Highlights; Focusing on Transportation, Public Works, Energy and ICT. Presentations will be made by the heads of the MP3EI Economic Corridors, national ministries and state owned enterprises alongside leading international experts outlining opportunities to partner with, support and supply the Indonesian government development plans.

Day-3

Project Presentations from the 33 Provinces; Focusing on specific detailed infrastructure project presentations by the respective Governors and senior Provincial Representatives, delivering the most comprehensive overview of actual opportunities across the Indonesian archipelago.
Conference Delegate Benefits:
Receive first hand information on the latest national policies and regulations on infrastructure from Indonesia and the Asia Pacific.
Review presentations on infrastructure initiatives and "ready-to-go" projects for tender from Indonesia and the Asia Pacific.
Learn International "best practices" towards project development, transparent tendering and procurement from industry experts.
Discover new methods for minimizing investment risks and facilitating infrastructure investment to drive your business.
Explore with government counterparts the availability of infrastructure financing under the current Indonesia economic boom.
Witness cutting edge skills & technologies in the infrastructure sector that can streamline your development.
Take Part in business meetings and tailored social events towards maximizing both G2B and B2B networking opportunities.
The Exhibition
The MP3EI Pavilion & 33 Provinces of Indonesia - As the centerpiece of the IIICE Exhibition, the MP3EI agenda will be presented alongside exhibits from the 33 provinces of Indonesia showcasing their priority infrastructure projects slated for development prioritizing those ready for tender.
Leading private sector companies, trade associations and country officials are invited to showcase their products, technologies and services to support Indonesia's rapidly expanding infrastructure development.
Exhibitor Benefits:
Jual produk dan jasa anda langsung ke ribuan klien potensial dari ekonomi yang paling penting dalam Asia Pasifik.
Showcase of technologies and services to Indonesian and Regional stakeholders
Match with Regional and Indonesian buyers, domestic and International suppliers, and government officials on an unprecedented level
Showcase of company/institution capabilities
Generate new business leads
Reinforcement of presence in front of the Regional and National infrastructure decision makers